The Brazilian state of Minas Gerais lies between Belo Horizonte (Brazil's third largest city and the state's capital) and Rio de Janiero (second biggest city). It is one of Brazil's most historically significant regions. Gold was discovered there in 1693 and this was followed by gem and diamond finds. The wealth of the region was also built on the backs of slaves brought from Africa.
It's colonial legacy is still very accessible through towns such as Ouro Preto and Tiradentes. Some of Brazil's most impressive artworks are to be found in the region, particularly in it's historical churches. Minas Gerais also has it's own strong culinary traditions and some renowned dining.
We decided that we wanted to visit a number of it's towns and sights, but to do so by public transport was going to be slow, so we hired a car for 4 days.
Here is our Minas Gerais roadtrip. First stop – Inhotim near the town of Brumadinho
The Lonely Planet guide describes Inhotim (Instituto de Arte Contemporanea Inhotim) as "the most astonishing museum you've never heard of", though that may soon change. TripAvisor named it as one of the top 10 museums to visit in the world in 2016. It's relative closeness to Rio de Janiero (around 400kms) may well see a fair number of pre and post Olympic tourists ''discovering" it.
So, what is Inhotim? In short it is an amazing botanical garden set on 140 hectares that contains within it a series of galleries housing over 350 art works from Brazil and the rest of the world.
It was the private property of local magnate, Bernardo Paz until 2004 when he turned it into a not-for-profit institution whose aim is the preservation of the environment and the creation and promotion of contemporary art.
Inhotim is just outside of the town of Brumadinho, which is 60km from Belo Horizonte, so it can be done as a day trip from there, but this was the first stop on our road trip.
We picked up our hire car from Belo Horizonte airport in the morning and headed for Brumadinho. On the way we discovered that our GPS, while being programmed to English (the text was in English), did not in fact have any English language voices pre-downloaded, so we had to navigate with a combination of Portuguese directions and Maps4me in English on a smartphone. We managed this successfully and arrived at Inhotim around midday.
The afternoon was spent wandering it's many paths and visiting the different galleries. The gardens are a wonder in themselves with lush tropical vegetation surrounding various small lakes and other features forming a fabulous backdrop to the artworks, many of which are outside of the galleries.
It's a big site so a number of largish golfcarts (4 or 6 seaters) traverse different routes around the site and, for a small extra fee, you can jump on and off them if you don't fancy the walk. The entry fee to Inhotim is R25 ($AUS9/ $US6.50), free on Wednesdays, closed Mondays.
There are also a number of restaurants and they are opening on-site accommodation soon.
We only had one afternoon. It was not nearly enough. A full day would be our recommendation. If you're into contemporary art then allow two. It really is the most astonishing museum/art gallery/botanical gardens you've never heard of.
If you'd like more information and images about Inhotim click here for the official website.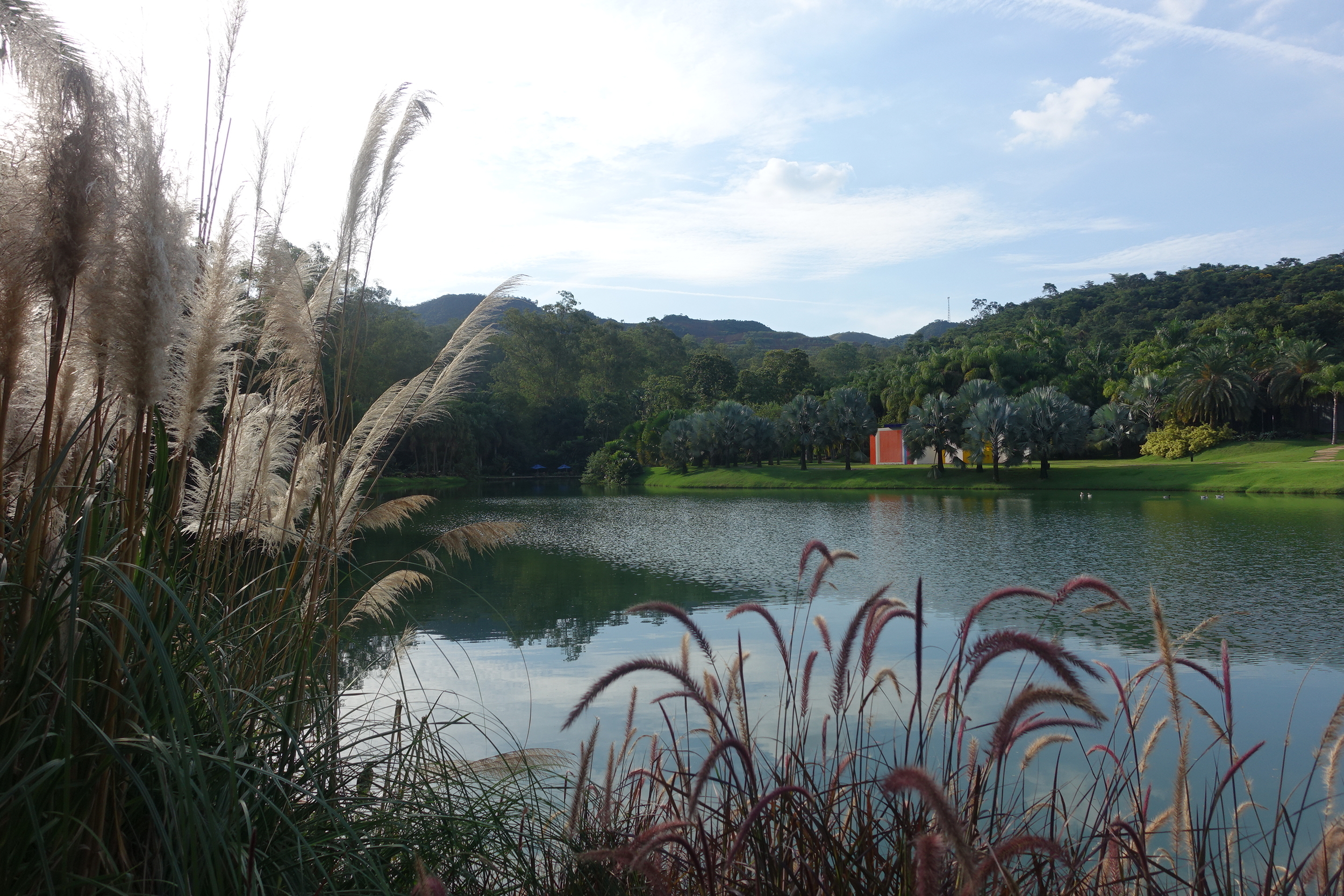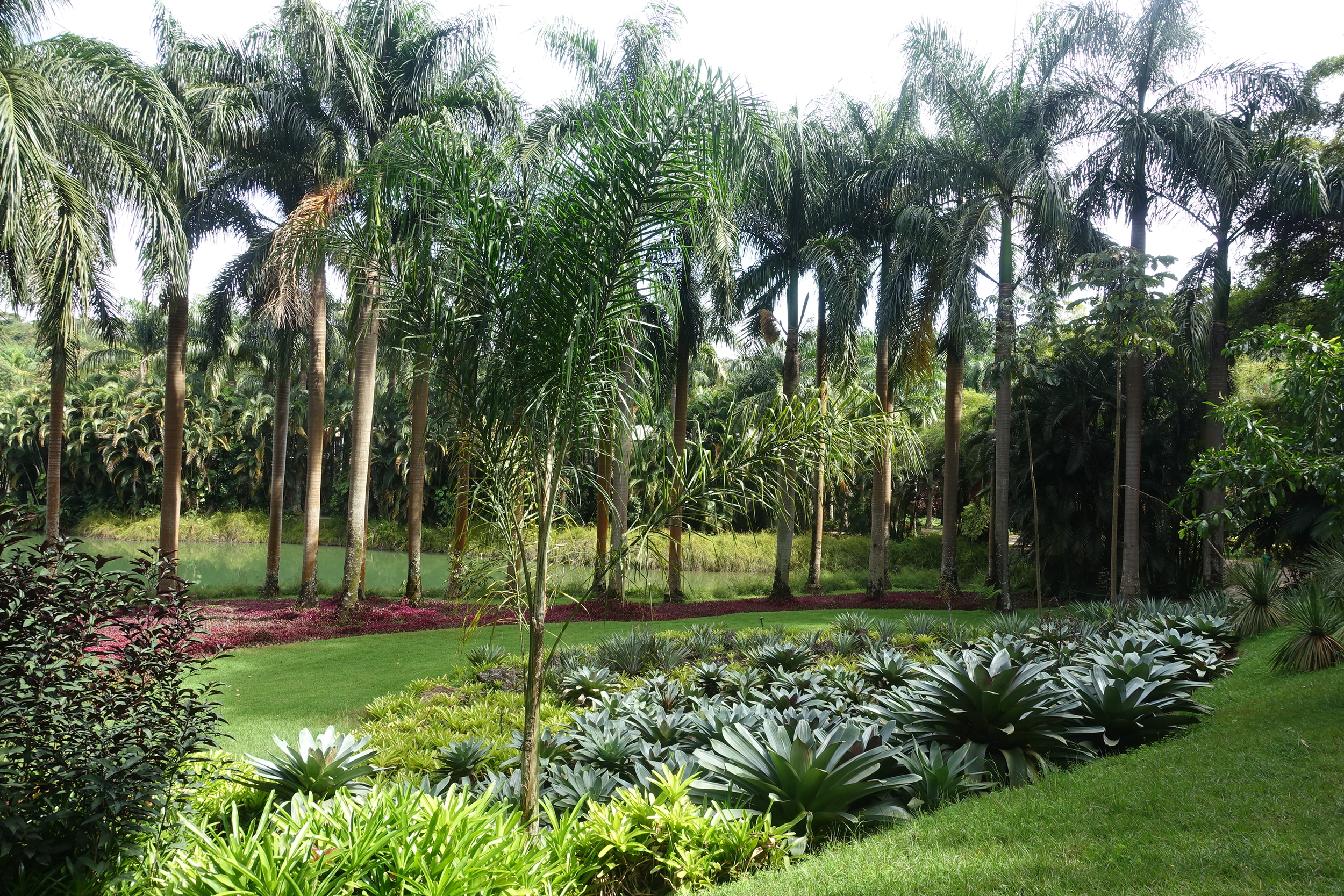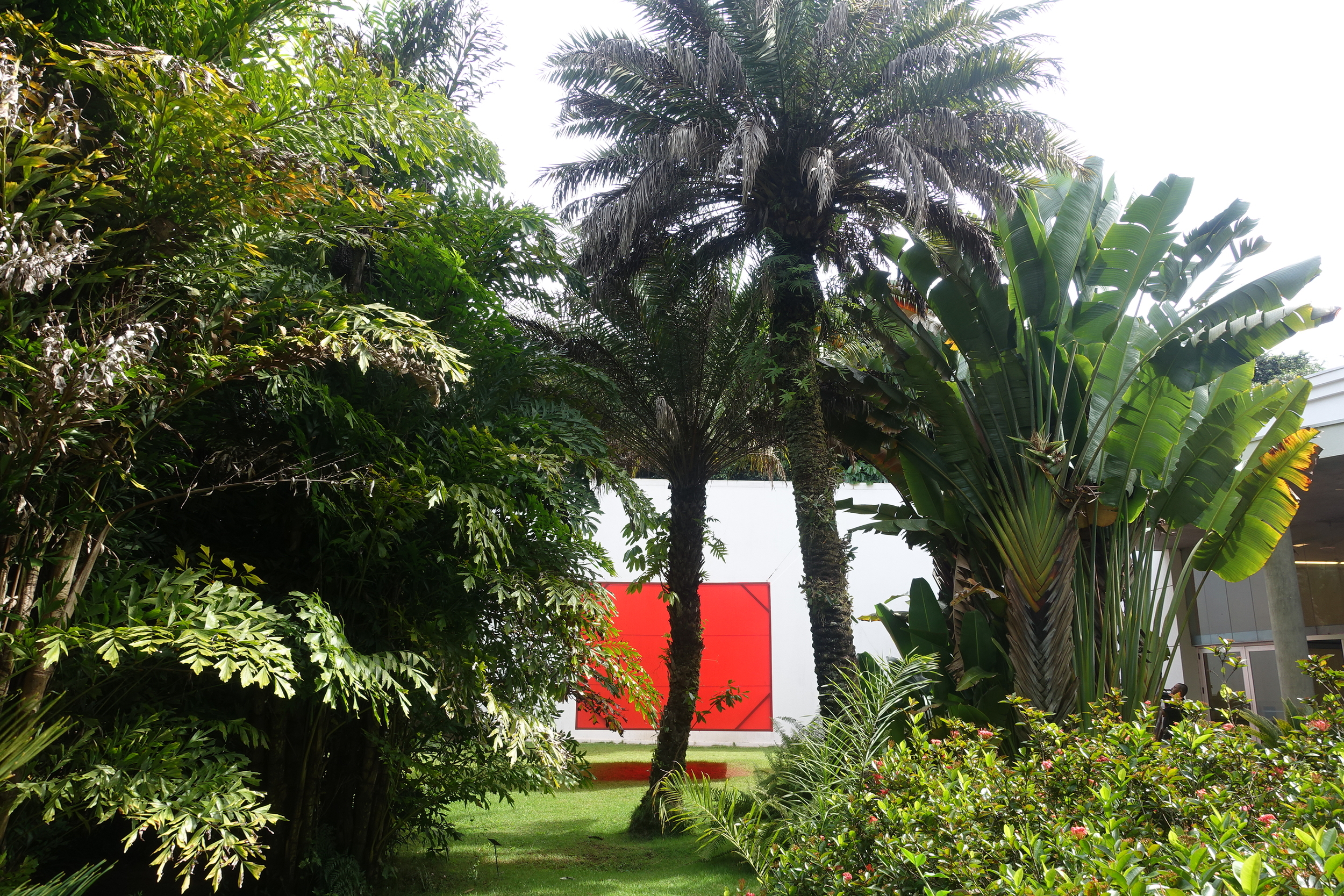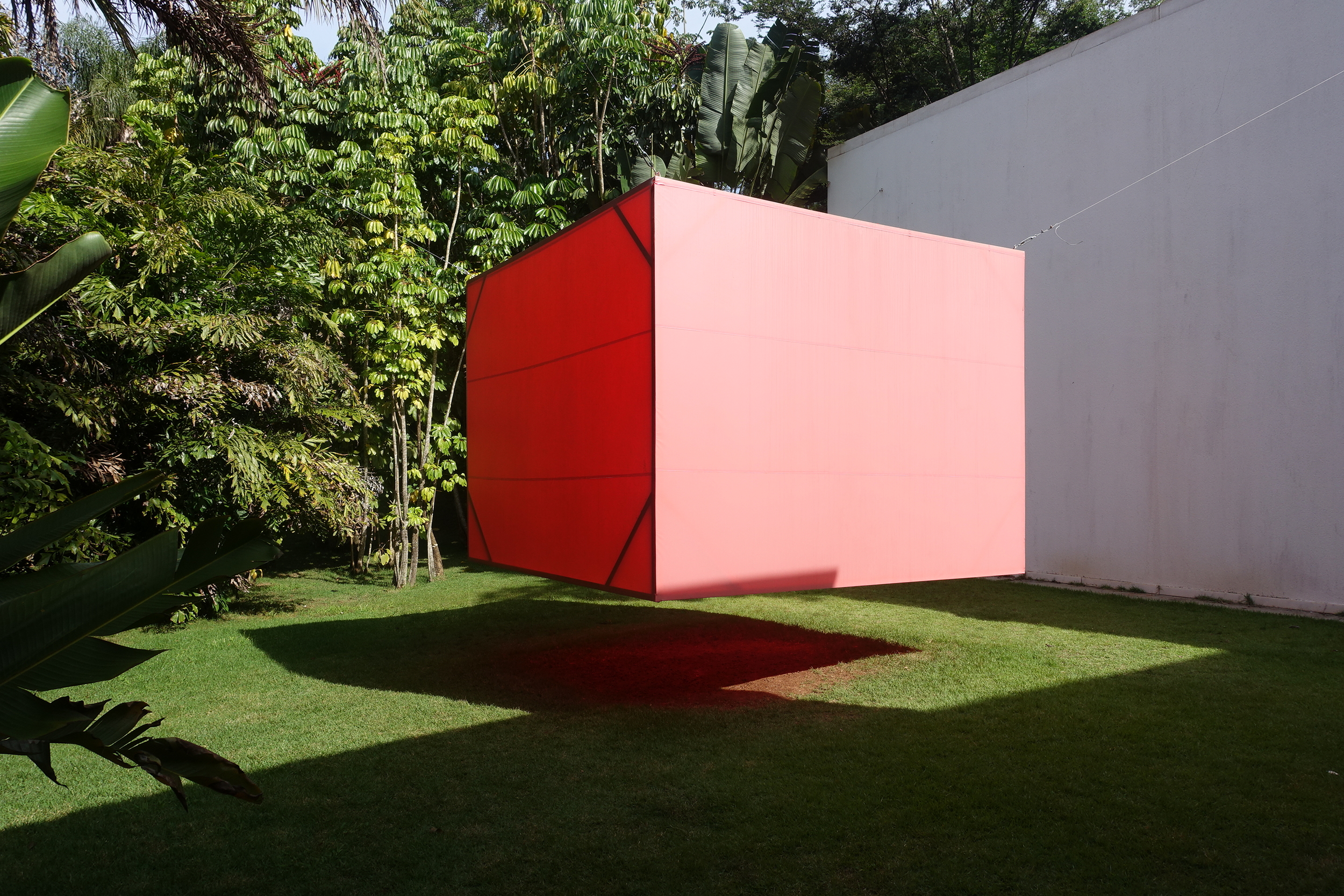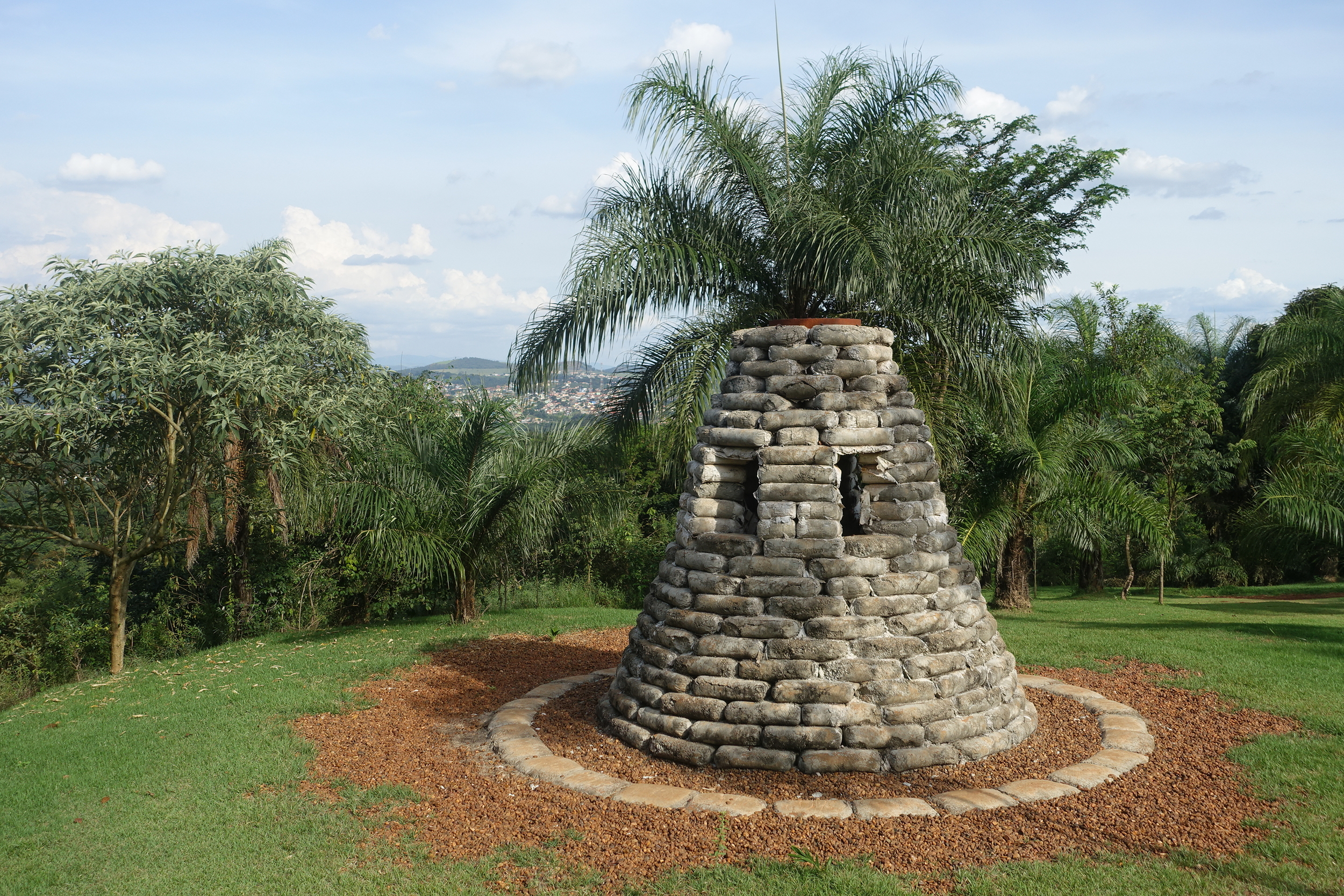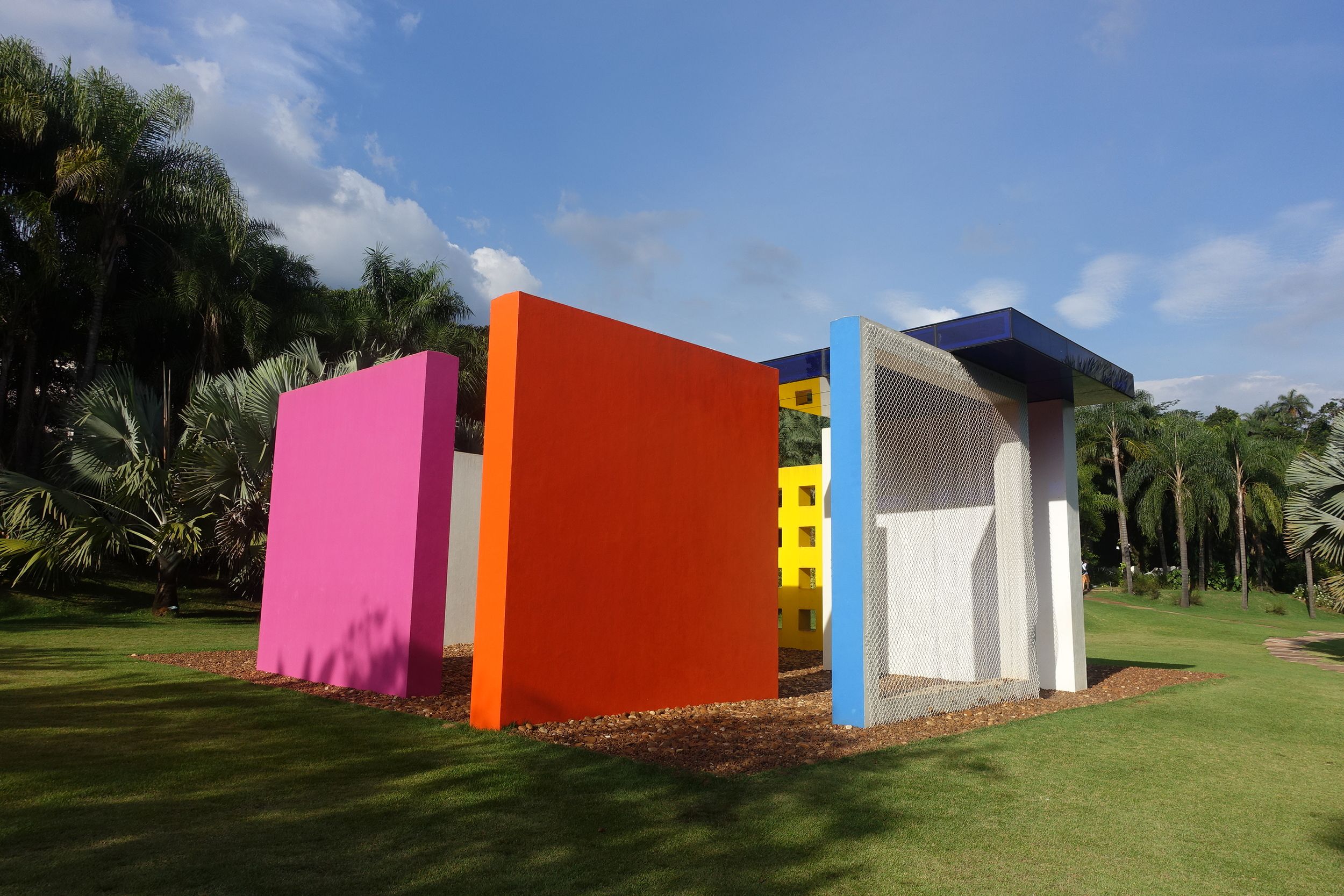 Next stop on our roadtrip was Ouro Preto, a UNESCO listed World Heritage historical town, little changed in terms of it's buildings for 250 years. It lies within the state of Minas Gerais, 115 kms south of Belo Horizonte. The region was significant for the discovery of gold that provided much of the wealth of colonial Brazil, which today is evident in the ornate and gold covered baroque interiors of the churches of Ouro Preto and Tiradentes.
The drive from Brumadinho to Ouro Preto took around two and a half hours arriving around midday. This gave us all afternoon to explore the cobble-stone streets and colonial churches and other buildings of the town which is surrounded by green, jungle covered hills/mountains making for an impressive scene.
It's steep streets make you work, and Brazil, being Brazil, is hot most of the time in most of the country so it doesn't take long to build up a sweat.
After an afternoon of churches, museums and photo mania we stopped for a late lunch/early dinner at O Passo Restaurant, which was close to our hotel. The outside deck overlooks a small ancient bridge used by pedestrians and the occasional car.
We spent a very pleasant early evening on the deck with a glass of red and a hearty meal. Definitely recommended.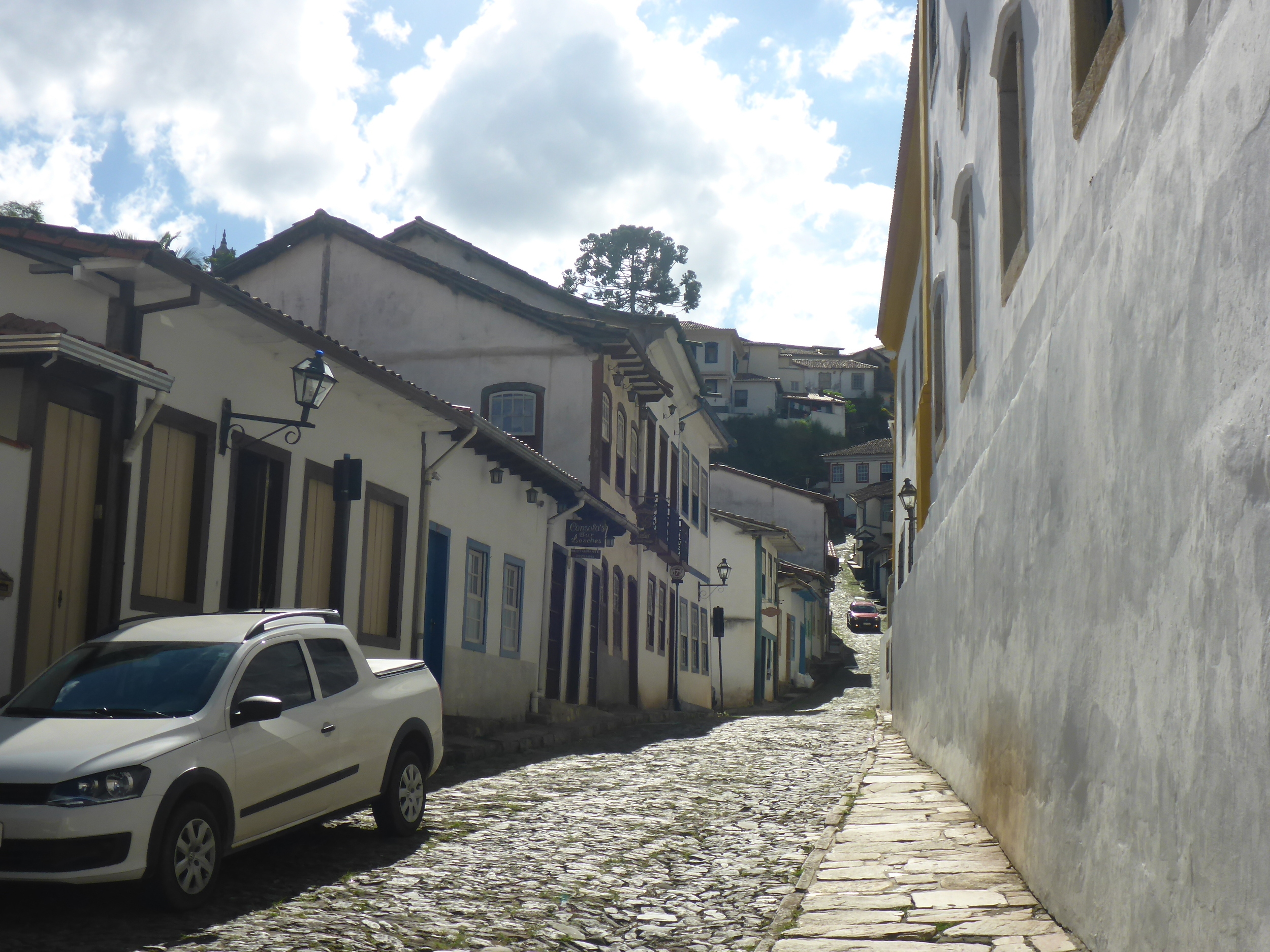 The 18th century sculptor Aleijadinho (b. Antônio Francisco Lisboa; 1730 or 1738 – 1814) is often referred to as the Brazilian Michelangelo. He was the son of a Portuguese architect and an African slave and he reputedly lost the use of his hands and legs at the age of 30 yet he continued to produce incredible stone sculptures with a hammer and chisel strapped to his arms. His works are found in many of the churches of Ouro Preto and we had looked for them specifically during our tour of the town.
His soapstone sculptures of 12 Old Testament Prophets, which sit outside of the Basilica do Bom Jesus de Matosinhos in the town of Congonhas are considered his greatest work. We decided to stop by on our way to Tiradentes and check them out.
Yes, they are amazing works, but unfortunately, because they are outside, in front of the Basilica, they are starting to show some wear and tear.
Our ultimate destination that day, day 3 of the roadtrip, was Tiradentes. This is another well preserved colonial town. Tiredentes (pop 6900) is much smaller than Ouro Preto (70,000). And it is also mercifully flat. We spent a couple of hours wandering around Tiradentes and visiting the major sites, largely a couple of well preserved churches.
Worth mentioning are Igreja Matriz de Santo Antonio (1710) with it's facade by Aleijadinho and the Igreja Nossa Senhora Rosario dos Pretos (1709) which was built by black slaves and includes images of a number of black saints.
Tiradentes also has a reputation for it's gourmet regional (Minas Gerais) cuisine. We were keen to see if the reputation was deserved and chose Estralgem da Sabor.
At the advice of the waiter we opted for their signature dish mane sem jaleco, which is roast pork, rice, banana, beans, manioc flour, green leafy stuff (not sure what that was) and chillies. Absolutely delicious.
After overnighting at the pleasant and reasonably priced Pousada Fazendinha de Minas ($AUS55/ $US45 for a room with own shower and breakfast) we headed on our last, and probably our most unenthusiastically anticipated leg – the drive to Rio and car drop off at the airport.
We'd chosen to drop off at the airport rather than in the city closer to our hotel as our reading of the roadmap looked like we could get to the airport via a series of major roads in a fairly straightforward fashion avoiding a lot of city traffic.
Fortunately, the night before, using the good wifi connection at the hotel and an old Tom Tom log on account I had from many years ago when I bought my first GPS, I was able to download a free English Language voice to our Portuguese speaking unit. Yes, "Susan" was on the job from Tiradentes to Rio International Airport and she did herself proud.
It was a 5 hour trip to Rio and we were very relieved to pull into the hire car return driveway, with ourselves and the car in tact.
We could now relax a little more and enjoy the next few days in Rio.
More on Rio in our next Brazilian post.
Ken and Cally